Exclusive Friday Dinners
Friday Vintner-Hosted Dinners
Guests will choose from five intimate dinner venues, raising glasses and breaking bread with owners, principals and winemakers. Each dinner limited to 40 guests. Napa Valley cocktail attire.
SOLD OUT
We hope to see you next April.
---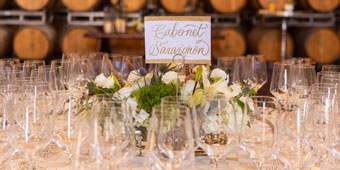 Hosted at Chimney Rock Winery with Baldacci Family Vineyards and Malk Family Vineyards
A Toast to Beginnings
Join us at Chimney Rock as we celebrate spring, bud break, and the birth of the vintage 2023 growing season alongside our neighbors and friends from Baldacci Family Vineyards and Malk Family Vineyards. Toast to the 'textural hedonism' of Stags Leap District cabernets; and see for yourself the authentic expression that each producer extends. For dinner, we have partnered with The Charter Oak restaurant by three star Michelin chef Christopher Kostow. The evening's menu will start with a reception whereupon guests can meet and greet the vintners. This will be followed by a seasonally inspired dinner paired exclusively to this illustrious portfolio of wines. This exceptional evening of delicious wines and delectable food is not to be missed! We hope to see you there.
Limited to 40 guests · 6:30 - 10:00 PM
---
Hosted at Cliff Lede Vineyards with Clos du Val and Silverado Vineyards
An Evening of the Classics
Join us at Cliff Lede Vineyards along with creative luminaries from Clos du Val and Silverado Vineyards for an evening of classic wines and classic rock. Library vintages of Stags Leap District Cabernet Sauvignon will be featured alongside exquisite dishes from the husband-and-wife team and Meadowood alumni Juan Carlos and Victoria Acosta of Moss ∧ Vine. Our curated classic rock playlist will set the vibe while we wine and dine the night away. We look forward to hosting you in our winery for this delightful Napa Valley dinner and spirited soirée with the vintners.
Limited to 40 guests · 6:30 - 10:00 PM
---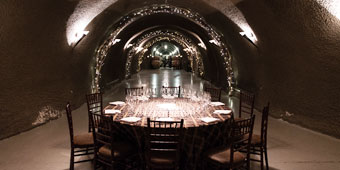 Hosted at Pine Ridge Vineyards with Ilsley Vineyards, Taylor Family Vineyards and Quixote Winery
A Stargazer Michelin-starred Dinner
Discover the recently re-modeled tasting room and underground caves for a magical evening at Pine Ridge Vineyards with fellow Stags Leap District vintners Ilsley Vineyards, Taylor Family Vineyards, and Quixote Winery. Michelin-starred restaurant La Toque will craft a multi-coursed dinner paired with each winery's exclusive bottlings.
The night will kick off with passed bites and a selection of vintners' wines overlooking Pine Ridge Vineyard's famed steep-walled terraced estate followed by a brief stroll through our European-inspired cave system where our intimate dinner will take place hosted by our region's acclaimed winemakers. Following dinner, guests will be invited to our patio for artisanal desserts and limited pours of hand-selected wines while they gaze at the stars overhead, guided by a docent from the Robert Ferguson Observatory for a fitting conclusion to a one-of-a-kind evening in the Stags Leap District.
Limited to 40 guests · 6:30 - 10:00 PM
---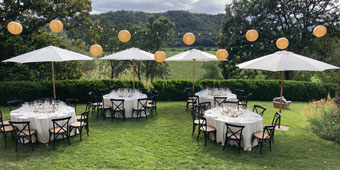 Hosted at Stags' Leap Winery with Regusci Winery and Shafer Vineyards
Surrounded in Stags Leap History
Imagine travelling down a private driveway to a historic 125 year old Estate in the Napa Valley, complete with a speakeasy and old world hospitality and charm. There will be lots of laughter and stories shared for years to come.
As the sunset falls over the vineyards, the night will kick off with appetizers on the porch. You will then delight in a four-course dinner paired with library selection from fellow Stags Leap District co-hosting vintners from Regusci Winery, Shafer Vineyards, and Stags' Leap Winery. We can't wait to host you at the historic Manor House.
Limited to 40 guests · 6:30-10:00 PM
---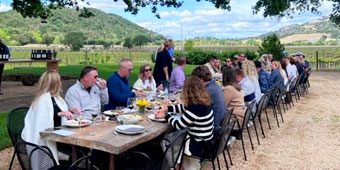 Hosted at Steltzner Vineyards with Lindstrom Wines and Stag's Leap Wine Cellars
Live Fire Dinner Under the Palisades
Celebrate Stags Leap District with our neighbors Stags Leap Wine Cellars and Greg and Carol Lindstrom. With library wines raided from each of our cellars, we will set a table under the big oak tree where the Steltzner family story began in Stags Leap District. Surround by vineyards at the base of the famed palisades, spend the evening sipping cellar treasures, eating incredible food and raising a glass to the friendships and stories from our little corner of the world.
We called our good friends Morgan & Irma and told them to light the fires for a party SLD style! With a sunset toast looking at Mt. St. Helena, guests will watch dinner being prepared over barrel staves then enjoy the wood-fired multi course feast. The evening will reflect the season's best spring produce and locally sourced ingredients — all paired with incredible Stags Leap District wines.
Limited to 40 guests · 6:30 - 10:00 PM
---