Exclusive Library Wine Dinners
Vintner-Hosted Library Wine Dinners
Friday evening, guests will choose from four intimate dinner venues, raising glasses and breaking bread with owners, principals and winemakers. Each dinner limited to 50 guests. Napa Valley cocktail attire.
---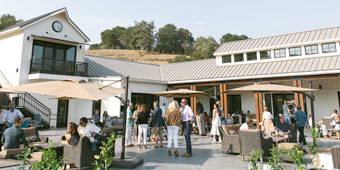 Hosted at Baldacci Family Vineyards with Ilsley Vineyards, Regusci Winery & Quixote Winery
Legacy Uncorked: A Cellar Soiree in Stags Leap District
Discover the magic of Napa Valley's renowned Stags Leap District during an unforgettable evening set against the picturesque backdrop of Baldacci's estate vineyards. From iconic library wines to exquisitely prepared farm-to-table pairings, each moment will be one to savor. Throughout the evening, fellow vintners Ilsley Vineyards, Regusci Winery, and Quixote Winery will regale you with stories of our shared past, our present endeavors, and the exciting future that lies ahead. With the opportunity to engage in lively discussions, ask questions, and deepen your appreciation of all things wine, this evening promises to be one to remember.
Limited to 50 guests · 6:30 - 10:00 PM
---
Hosted at Chimney Rock Winery with Pine Ridge Winery & Steltzner Vineyards
An Intimate Evening with Celebrated Vintners from the Stags Leap District
Join us for an elegant evening at Chimney Rock. The evening will begin with a courtyard reception where guests will enjoy the stunning backdrop of the appellation's famed Palisades with a selection of wines and hors d'oeuvres to savor along with the lively conversation of our co-hosting vintners for the evening: Elizabeth Vianna from Chimney Rock, Josh Widaman from Pine Ridge Vineyards and Allison Steltzner from Steltzner Vineyards. You will then be escorted into the winery's beautiful chandelier-lit barrel room where the evening continues with rare vintages of Stags Leap District library cabernets paired with the exceptional cuisine from one of Napa Valley's celebrated chefs. This extraordinary, intimate and curated evening will create memories to last a lifetime.
Limited to 50 guests · 6:30 - 10:00 PM
---
Hosted at Silverado Vineyards with Lindstrom Wines, Shafer Vineyards & Stags' Leap Winery
Steak Night in Stags Leap District
This intimate evening will start on the terrace of the iconic Silverado Vineyards winery. Overlooking the famed Silverado Trail and the beauty bestowed in the Stags Leap District enjoy a warm reception of Stags Leap District wines and seasonal appetizers. Break bread at dinner with our vintners and winemakers who will pair their age worthy and legendary Cabernets with steakhouse recipes created by wine country local Chef David Lawrence of Goodnight's Steak + Spirits. The menu will be inspired by cowboy-entrepreneur, Charles Goodnight – founder of the first Texas Panhandle ranch, and inventor of the chuckwagon. From wedge salad and Parker House rolls to pan-roasted shrimp and prime cuts of steak – with all the savory side dishes – this hearty meal will stand up to these extraordinary Stags Leap District Cabs. Don't miss an evening of exceptional wine, and a classic Western-styling steakhouse dining experience. Boots optional.
Limited to 50 guests · 6:30 - 10:00 PM
FULL
---
Hosted at Stag's Leap Wine Cellars with Cliff Lede Vineyards, Malk Vineyards & Taylor Vineyards
Eat and Drink Local
Stag's Leap Wine Cellars' estate Chef Travis Westrope has prepared culinary delights that pair perfectly with Stags Leap District wines for the past six years. His culinary philosophy focuses on the abundant bounty Northern California provides and his menus showcase the personal relationships he has cultivated with the local farmers who provide ingredients for his well-composed dishes. Guests will experience California's culinary delights as every flavor accompanies you on the journey through time with rare library wines. Our esteemed co-hosting vintners are digging deep into their cellars for the evening's wines to showcase the world-class wines for which the appellation in known. Join us for an evening of local bounty.
Limited to 50 guests · 6:30-10:00 PM