Exclusive Friday Dinners
Friday Vintner-Hosted Dinners
Guests will choose from five intimate dinner venues, raising glasses and breaking bread with owners, principals and winemakers. Each dinner limited to 40 guests. Napa Valley cocktail attire.
---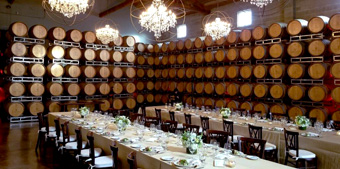 Hosted at Chimney Rock Winery with Shafer Vineyards and Quixote Winery
An Illuminating Wine and Food Experience
The evening will begin as we gather on Chimney Rock's picturesque estate grounds to enjoy some select wines and toast daylight's transition. We will then move into the Original Barrel Room under the grand chandeliers to revel in a multi-dimensional delight of wine, food, and dazzling conversation in this magnificent setting. Partner hosts from Shafer Vineyards, Quixote Winery, and Chimney Rock Winery will be sharing exceptional and hand-selected library wines from their secret cellars just for this evening!
The evening's sumptuous meal will be crafted by Meadowood Estate Chef and James Beard Foundation Honoree Alejandro Ayala, whose cuisine is enjoyed by invitation only for the most illustrious occasions. His inspired four-course menu will feature the spring bounty of the Napa Valley paired with these extraordinary wines.
From beginning to end, you will be royally accommodated by your winery hosts and the legendary service of the Meadowood team.
Limited to 40 guests · 6:30 - 10:00 PM
---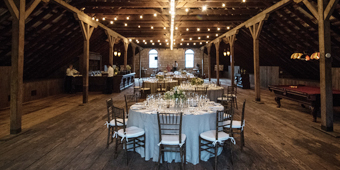 Hosted at Regusci Winery with Lindstrom Wines and Stags' Leap Winery
Homegrown: An Exploration of Fine Wines and Farm-to-Table Dining in Stags Leap District
Make yourself at home in the heart of the Stags Leap District as you join the Regusci family on their home ranch for an evening to remember. Hosted alongside Lindstrom Wines and Stags' Leap Winery, your dining experience will feature premiere library wines with a fresh garden-to-table meal prepared by "Top Chef" finalist, Casey Thompson, in company with Brasswood Bar & Kitchen.
Greeted by unmatched hospitality, your experience begins with a sunset reception in the Regusci family's one-acre culinary garden, enjoying wines paired with sustainably grown ingredients. Following the reception, guests are invited to our historic winery cellar, originally constructed in 1878, for an intimate dinner, elbow to elbow, with our partner vintners. Sip on library standout wines from all three wineries and hear stories about their past, present, and future. To round out this exclusive event, gourmet coffee, tea and artisan desserts will be served before you journey home.
Limited to 40 guests · 6:30 - 10:00 PM
---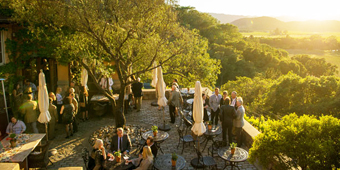 Hosted at Silverado Vineyards with Cliff Lede Vineyards, Steltzner Vineyards and Ilsley Vineyards
NOLA in Napa
Savor Stags Leap District wines on the terrace of the iconic Silverado Trail winery, overlooking the famed Silverado Vineyard. At this intimate NOLA in Napa, you will start by sipping single vineyard wines with our neighbor vintners and winemakers at sunset to the sounds of live New Orleans-style jazz. As you dance into dinner, enjoy new vintage releases to library legends, paired with savory southern delicacies created by acclaimed Napa Valley winery chef and cookbook author, Sarah Scott. The crescendo of the celebration will bring you to the barrel room for a night-cap. Don't miss an evening of exceptional wine, creole cuisine and the sounds of N'awlins that will transport the French Quarter to our very own Stags Leap District!
Limited to 40 guests · 6:30 - 10:00 PM
---
Hosted at Stag's Leap Wine Cellars with Pine Ridge Vineyards, Malk Family Vineyards and Baldacci Family Vineyards
A Feast of Legendary Wine and Food
The beauty and legendary wines of the Stags Leap District await you at a special Vineyard to Vintner dinner at Stag's Leap Wine Cellars with fellow vintners Pine Ridge Vineyards, Malk Family Vineyards and Baldacci Family Vineyards. In honor of the 50th Anniversary of Stag's Leap Wine Cellars, festivities will begin with a "Golden" reception prepared by winery Chef Travis Westrope. This will take place on the patio of the Stag's Leap Wine Cellars FAY Outlook & Visitor Center with sweeping views of the estate vineyards and Palisades behind. Dinner will follow in the beautiful Great Room of the Caves and will be masterfully prepared by Elaine Bell Catering. Each course of this spectacular feast will be created to pair with the wines. Stag's Leap Wine Cellars Winemaker Marcus Notaro, Winemaker Michael Beaulac of Pine Ridge Vineyards and Owners Brian Malk and Thomas Baldacci will be hosting the dinner and digging deep into their cellars to find special wines for the evening to make it a night to remember. You will leave with a true understanding of what makes the Stags Leap District such an incredible place for fine wine!
Limited to 40 guests · 6:30 - 10:00 PM
---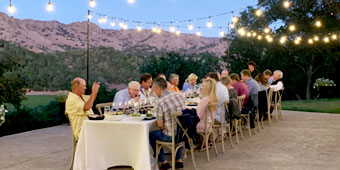 Hosted at Taylor Family Vineyards with Odette Estate Winery and Clos Du Val
An Evening Under the Stars
Join Taylor Family Vineyards, Odette Estate Winery and Clos du Val for a magical evening under the stars with the things that matter the most to us: warm hospitality, plenty of world-class wines and exquisite food. The evening will begin with a selection of our vintners' wines, Champagne and hors d'oeuvres on proprietress Pat Taylor's home deck overlooking our breathtaking and famed Stags Leap Palisades. For dinner, we are thrilled to partner with Daniel Gomez to offer modern wine country cuisine impeccably paired with our wines of the evening including current releases and rare library cabernets pulled from the three host wineries' cellars. A local chef, Daniel Gomez has proved his talents with 15 years at Michelin restaurants, including The French Laundry and Cyrus; currently he focuses on food and wine pairings exclusively at prestigious wineries throughout Napa Valley. A roving dessert reception will put you back, where both the evening and our history all started, on the deck, in the heart of Stags Leap District!
Limited to 40 guests · 6:30 - 10:00 PM
---
Luxury Shuttles
The Stags Leap District Winegrowers Association will be providing complimentary luxury shuttles to each Friday night dinner for those with reservations at any of our five Yountville partners. See Accommodations & Transportation for list.
Shuttle service by Beau Wine Tours.
Contact Nancy Bialek at nancy@stagsleapdistrict.com for arrangements.