Exclusive Friday Dinners
Friday Dinners
Guests will choose from five intimate dinner venues, raising glasses and breaking bread with owners, principals and winemakers.
Hosted at Cliff Lede Vineyards with Silverado Vineyards and Stags' Leap Winery
Celebration in the Cellar: Toast 30 Years of Stags Leap District Wines
Commemorate 30 years of exceptional winemaking from this historic AVA in the cellar of Cliff Lede Vineyards along with fellow vintners from Silverado Vineyards and Stags' Leap Winery. Begin with an alfresco toast and delicious hors d'oeuvres on the winery's veranda, offering stunning views of the Stags Leap District Palisades. The unforgettable experience unfolds as you move into the dramatic tank room. Highlights include current vintage and rare library offerings from the featured wineries, each thoughtfully paired with the inspired cuisine of Ken Frank, Michelin-starred chef of Napa Valley's celebrated La Toque restaurant. You'll be regaled by stories from the vintners about their properties and wine growing in this appellation, regarded as one of the finest Cabernet Sauvignon producing regions in the world.
Limited to 40 guests · 6:30-10:00 PM
---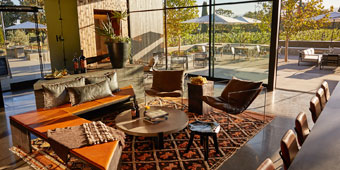 Hosted at Clos Du Val with Lindstrom Wines, Malk Family Vineyards and Regusci Winery
Cheers to 30 Years: A Curated Wine and Culinary Adventure Awaits
Join us for a joyous night of food and wine under the stars on the patio at Clos Du Val's new tasting room, Hirondelle House. Celebrate 30 years of winemaking from the historic Stags Leap District with Clos Du Val, Lindstrom Wines, Malk Family Vineyards and Regusci Winery. Following a reception, enjoy a four-course meal, prepared by the extraordinary Chef Ted Fleury and his culinary team at Stag Dining of San Francisco, perfectly paired with specially selected wines from each participating winery, as their winemakers and principals guide you through the curated courses. For dessert, snuggle up next to the outdoor fireplace with a sweet treat while toasting friends with glasses of Cabernet. A night full of delicious food, even better wine and great conversation, all while breaking bread with the vintners themselves, will not want to be missed!
Limited to 40 guests · 6:30-10:00 PM
---
Hosted at Odette Estate Winery with Baldacci Family Vineyards and Chimney Rock Winery
A Taste of Modern Stags Leap District
Enjoy an evening of modern Stags Leap District excellence on the grounds of Odette Estate, along with co-hosts Chimney Rock Winery and Baldacci Family Vineyards. Enjoy sweeping views of Odette's estate vineyards with the Stags Leap District stretching into the distance beyond, and partake in the pleasant company of fellow Stags Leap District enthusiasts. Be seated for dinner in the winery's Estate Lounge and enjoy a full 4-course meal served by the celebrated culinary team of Estate Events of Meadowood Napa Valley. Each course of this sublime meal will be paired with, and guided by, your hosts for the evening; Odette Estate Winemaker, Jeff Owens, vintners Michael & Thomas Baldacci, and Chimney Rock Winemaker Elizabeth Vianna who have selected some special wines from their current vintage, as well as some truly special Library selections chosen directly from their cellars.
Finally, cap the night off by revisiting some of your favorite wines of the evening (and perhaps enjoy a surprise or two!) beneath the stars and around the warmth of our vineyard-view fire pits.
Limited to 40 guests · 6:30-10:00 PM
---
Hosted at Quixote Winery with Pine Ridge Vineyards, Stag's Leap Wine Cellars and Steltzner Vineyards and
A Culinary Collaboration of Stag-sized Proportions
The culture of Napa Valley is based on collaboration and it's what makes this place so special. We are neighbors and friends who share ideas, knowledge, values, grapes, and even winery equipment. In the spirit of collaboration, Quixote, Stag's Leap Wine Cellars, Pine Ridge and Steltzner Vineyards are coming together to create a culinary feast prepared by our very own winery chefs. Quixote Chef Aaron LeRoi, Stag's Leap Wine Cellars Chef Travis Westrope, Pine Ridge Chef Susan Lassalette and longtime Steltzner caterer Kelly Sherman of Smoke will each prepare one course, expertly paired with the soft and graceful wines of the Stags Leap District.
The festivities will begin with a reception on the patio at Quixote with views of the vineyard. Guests will then be escorted to the Puddle House situated at the base of the majestic Stags Leap Cliff, where dinner will be served, masterfully prepared by each of the acclaimed winery chefs. Guests will get to know each of the winemakers over dinner while they talk about their winemaking style and vineyards. You will leave with a true understanding of what makes the Stags Leap District such an incredible place for fine wine!
Limited to 40 guests · 6:30-10:00 PM
---
Hosted at Taylor Family Vineyards with Ilsley Vineyards and Shafer Vineyards
Details coming soon.
Limited to 40 guests · 6:30-10:00 PM
---
Luxury Shuttles
The Stags Leap District Winegrowers Association will be providing complimentary luxury shuttles to each Friday night dinner for those with reservations at any of our five Yountville partners.
Shuttle service by Beau Wine Tours.
Contact Nancy Bialek at nancy@stagsleapdistrict.com for arrangements.