Digging Deeper
Saturday Morning Seminars and Tastings
Guests will choose from four informative morning sessions to dig deeper into our famed history and the role of our terroir: the people, the place and the wines. Each venue will be limited to 50 guests. Casual attire.
SOLD OUT
We hope to see you next April.
---
Hosted by Baldacci Family Vineyards

Clone Challenge
Take a deep dive into our Stags Leap District vineyard with Viticulturist Garrett Buckland as you learn all about grape clones — what they are, why they're important, and the role they play from vine to glass. Discover the grapegrowing decisions that determine clonal selection, the unique attributes of different clones, and how blending multiple clones affects the final wine. Challenge your palate with a side-by-side barrel tasting of two unique clones from our estate vineyard and our current release Black Label Cabernet Sauvignon.
Limited to 50 guests · 10:45 AM - 12:15 PM
---
Hosted by Clos du Val

Inspired by the Past, Motivated by the Future
Join Winemaker, Carmel Greenberg and Viticulturist, Ryan Decker under the oak tree on our Hirondelle Estate for an in-depth comparison of our older and younger vineyard plantings. Discuss what we've learned over the past five decades about our Stags Leap District terroir, including how to best manage the impacts of climate change. Explore our newly installed butterfly habitat and flower garden as we see how beneficial insects, companion planting, and habitat management in the vineyards support our regenerative farming practices for future generations.
Following the vineyard exploration, guests will enjoy a unique library wine tasting as we open our historic cellar to you. Featuring three beautifully aged vintages from three different formats, we will explore the evolution of Clos du Val's distinctive winemaking style and the unmistakable age-worthiness of Stags Leap District Cabernet Sauvignon.
Please wear vineyard-appropriate clothes and shoes.
Limited to 50 guests · 10:45 AM - 12:15 PM
---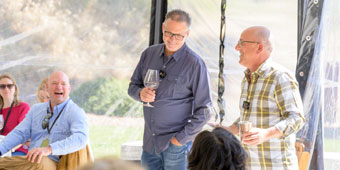 Hosted by Ilsley Vineyards
Ilsley Family Terroir
Join the third generation of the Ilsley Family as they deep dive into the soils, conditions, and wines (both past and present) that are most expressive of this historic estate's terroir.
Every family is comprised of many different parts, each bringing their own unique personalities and experiences to the table. So too, then, is a vineyard. Complexity and expression vary not only from vineyard site to vineyard site, but within each vineyard site as well; each family member (soil, weather, rootstock, farming technique) combining to create the harmonious whole. Join siblings Janice, Ernie and David Ilsley on an exciting exploration of their Downey Ranch Estate, affording you an up-close and personal look at their soil types, vineyard blocks, and the wines that are crafted from them. You will taste current releases and library wines, hand selected examples of this unique piece of land and family heritage.
Limited to 50 guests · 10:45 AM - 12:15 PM
---
Hosted at Stag's Leap Wine Cellars
Understand the Future of Stags Leap District through an Historical Lens: A Dive into Fay Vineyard
The FAY vineyard is where the Stag's Leap Wine Cellars story began. Established by pioneering grape grower Nathan Fay in 1961, it was the first planting of Cabernet Sauvignon in what is now the Stags Leap District. At the time, conventional wisdom maintained that the area was too cool for Cabernet Sauvignon. Join Winemaker Marcus Notaro and Vineyard Director Kirk Grace for an in-depth look at FAY Vineyard. You will experience three unique sections of the vineyard and taste the Cabernet Sauvignon they produce — Chase Creek, Heart of FAY and FAY Hillside. While all a short distance from each other in the FAY vineyard, each has its own expression and character.
Small bites will be served under the shade of the oak trees in the vineyard. You will also have the chance to taste a library vintage of FAY Cabernet Sauvignon as well as access to purchase a few of these limited production, winery-only wines. This will be a walking tour of FAY vineyard. Wear comfortable shoes and bring a hat. We look forward to hosting you for this special vineyard experience!
Limited to 50 guests · 10:45 AM - 12:15 PM